At UConn Hartford, we're Huskies. What we start has the power to go on and on and on. On to bigger ideas. On to better answers. On to what matters most. Be a part of the next generation of Huskies who join together to inspire new possibilities, improve lives, and light the way forward.
As a Husky, you'll have access to an education that you make entirely your own, for an experience built around what interests you. You can begin your UConn career at Hartford and seamlessly transition to UConn's main campus in Storrs to complete your degree, or begin your academic journey here and stay for four years. High-tech classrooms, bustling student center, and a dynamic urban environment combine to give students a first-class educational experience and opportunities for a vibrant college experience. Important Admission Deadlines
Priority First-Year Student Application
Deadline for Merit Scholarship & Honors Consideration. Notification of Admission Begins March 1
FAFSA Financial Aid Eligibility
Notification of Financial Awards Begins Mid-March
Fall First-Year Student and Transfer Application
Admission decisions are made on a rolling basis.
Spring First-Year Student and Transfer Application
Admission decisions are made on a rolling basis.
UConn Hartford Admissions
If you have more questions or need to speak to our Admissions team, please reach out by phone or email.
Always Pushing What's Possible
has aspirations to become a doctor from a very young age. Mckayle volunteers at Hartford Hospital and a local homeless shelter, which has motivated her to help her community even more. After completing her undergraduate degree Mckayle plans to attend medical school, which she hopes will lead to a career where she can help people bot h in and out of medicine. In addition to her studies and volunteer work, Mckayle is a member of the UConn Hartford Student Career Council.
"When I visited UConn Hartford for the first time I just loved the atmosphere, and the smaller class sizes gave me the opportunity to connect with my professors a lot more. UConn Hartford truly makes you comfortable with who you are and part of this is because the faculty and staff are so welcoming and they truly care about your well-being."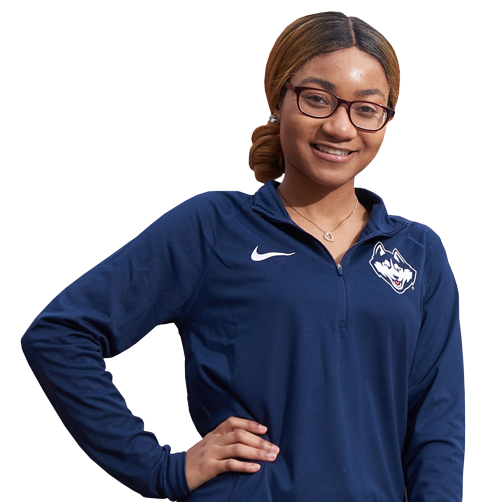 Human Development and Family Sciences
is a U.S. Military veteran who wanted to attend a university that delivered an exceptional college experience in a smaller campus setting. Shaw is most passionate about the impact and influence of public policy on local families — an area he plans to build his career in after graduation. When not in the classroom, Shaw is actively involved in the UConn Veterans Student Organization, the Drama Club, and Music Club.
"What I love most about UConn Hartford is the people. The students, faculty, and staff make the campus a great place to be. I have a spectacular group of friends and it's really great to see how people connect with one another no matter your skin tone or background, which makes it a great space to talk about all issues. I find that inspiring."